Terms and Conditions
General Terms and Conditions
The Austrian (German language) original version of this Terms and Conditions of use is valid and will control in cases of conflict, translations are provided for your convenience and are merely informative.
As of: 26.02.2017
Older terms and conditions are no longer applied from this date.

Please read the following Terms and Conditions (hereinafter referred to as the GTC) for the retrieval and use of paid online self-study courses (hereinafter referred to as "courses") and live webinars (hereinafter referred to as "LIWs") of Katalin Erdmann / Happy Dog Groomers e-Academy ) by.
The following general terms and conditions contain at the same time the legally required information on consumer rights in accordance with the regulations on contracts for online selling and electronic commerce, in particular the cancellation policy (revocation).

Table of Contents
(1) Preamble
(2) Scope
(3) Object of the contract / service
(4) Right of use
(5) Order and conclusion of contract
(6) Contract period
(7) Account opening / registration
(8) Obligations of the user
(9) Prices
(10) Payment and activation
(11) Termination of contract / termination
(12) Technical requirements
(13) Availability of services
(14) Liability / Warranty
(15) Content
(16) Copyright
(17) Rights to your content
(18) Withdrawal/Revocation/Cancellation policy
(19) Privacy
(20) Electronic communication
(21) Final provisions
1. Preamble

1.1. Katalin Erdmann Sole Proprietor, Reisnerstraße 38/7, 1030 Vienna, Austria, Tel: +43 699 8120 4734, UID No(Int`l tax registration Nr): ATU67856858 (hereinafter referred to as "HDG" or "we"), is the developer and operator of Happy Dog Groomers e-Academy ", an internet-based learning platform for dog groomers.
Imprint

1.2. All paid courses and LIWs (hereafter referred to as "Services") of the Happy Dog Groomers e-Academy Platform are electronic services, in terms of function, digital content that is not delivered on a physical medium and can be accessed and used online through access data for the duration of the User Agreement.
2. Scope

2.1. These terms and conditions concern the relationship between HDG and you.
2.2. These terms and conditions apply to all contracts on the use of paid services of the HDG, via the URLs: www.learndoggroomingonline.com, www.hundefriseuracademie.at, www.hundefriseuracademie.de and www.doggroomersacademy.de including all subpages (hereinafter called "Learning Platform").
2.3. By clicking on the order button "order with payment" you accept the validity and applicability of these terms and conditions. If you do not agree with these terms, you may not continue to use our services.
You acknowledge and agree that we treat your access to or use of the Services as acceptance of our Terms and Conditions.
2.4. These terms and conditions apply exclusively. Different terms and conditions will be rejected.
2.5. Decisive is the current version of the GTC at the time the contract is concluded. You will receive these by e-mail, together with your order confirmation (clause 5.3.). Furthermore you can retrieve, save and print these terms and conditions at any time from the HDG platform.
2.6. The terms and conditions may include further legal agreements depending on the type of use or your status. If supplementary agreements apply for the use of an HDG service, this will be indicated separately at the appropriate place.
2.7. These terms and conditions apply even if you retrieve the offered HDG services from other websites that provide access to these services in whole or in part.
3. Subject of the contract / service

3.1. HDG provides an online learning platform to offer and access digital, interactive and multimedia educational content (courses and LIWs) in the form of videos, pictures, screencasts, tests, educational games, documents, webinars, or in other forms for dog groomers.
3.2. The content available to you within a course or LIW will be clearly defined in the course description in the manner prescribed by law.
3.3. The communication connections required for the use of the HDG services (eg. Internet access / ISDN / DSL) as well as the required equipment (eg. electronic communication devices) or other technical requirements (eg. browsers) are not the subject of the HDG Services to be provided according to these terms and conditions, but are contributions from you as a user at your expense. The equipment or other technical prerequisites required from you, as a user, are described in Section 12 of these General Terms and Conditions.
4. Right of use
4.1. Registration is only allowed to persons with unlimited legal capacity. Without exception, only applications of persons of legal age are accepted. If you are under 18, you may use the HDG services only with the assistance of a parent or guardian.
4.2. You can be a consumer (or private customer) as well as an entrepreneur (or corporate customer) as user of the services of HDG. A consumer is any natural person in whom the purpose of the order cannot be attributed to a commercial, self-employed or freelance activity. In contrast, an entrepreneur is a natural or legal person or legal partnership that orders for personal purposes.
4.3. When using the HDG services, you acquire a simple, non-transferable right to use the services agreed within the agreed period according to contract. The prices and access times apply. After expiry of the respective access time (or course duration), the right to use the service expires.
4.4. The assignment of the rights of use takes place under the condition precedent of the complete payment of the respective order.
5. Order and conclusion of contract
5.1. If you want to buy courses or LIWs, you have to click on the button "Book course". The ordering process can be canceled at any time by closing the browser window. After entering the personal data, the billing address and the choice of payment method there is the possibility to check the entries again on an overview page ("Summary") and if necessary to go back to the previous steps.
5.2. By clicking on the "Submit binding order" button you give a binding order of the services.
5.3. After placing your order, you will receive an e-mail confirming receipt of the order (order confirmation) and its details. This order confirmation is not an acceptance of the offer submitted by the order, but is only intended to inform you that the order has been received by us.
5.4. Based on these terms and conditions, the contract of use between you and HDG will only come into effect if HDG has sent you the course access information by e-mail, but no later than the start of the execution of services.
5.5. The content of your order, the consent given by you and taking note of the purchase of digital content, as well as these terms and conditions, together with the cancellation policy (revocation), the cancellation form and the privacy policy will be sent to you in the order confirmation as an attachment to the order confirmation e-mail. Please keep this e-mail well, because this is the only way to access to the full text of the contract.
5.6. Every order is binding. A cancellation will only take place according to the provisions of clause 11 of these GTC.
6. Contract period
6.1. The use of a course is limited to a period of one month from the conclusion of the contract, unless a different duration (access time) is specified in the course description.
6.2. For LIW, the contract ends automatically at the end of the event.
7. Account opening, registration
7.1. Visiting the website (www.learndoggroomingonline.com, www.hundefriseuracademie.at, www.hundefriseuracademie.de, www.doggroomersacademy.de) and browsing through the offered courses is possible without registration.
7.2. Access to the paid services of the HDG, requires an account opening. An account is opened by ordering a course or LIWs. You receive your access data or the information about the activation after the receipt of payment in an automatically generated email from HDG to the deposited e-mail address. In addition to the access data is also a link that refers directly to the course offer.
7.3. You can change your password at any time. We recommend changing the password after the first login.
7.4. You are entitled to delete your user account at any time and without stating reasons. Send a message to HDG via email to katalin@learndoggroomingonline.com and HDG will take care of the deletion as soon as possible. If you wish the deletion of your personal data stored by HDG, please request it also in an email to katalin@learndoggroomingonline.com. An account deletion does not release you from your contractual payment obligations.
8. Obligations of the user
8.1. The access data is only valid for one user. You may only have one access; a transfer of access is not possible.
8.2. You agree not to make false statements about yourself or your company. You guarantee the completeness and correctness of all data entered in the input mask of Happy Dog Groomers e-Academy or otherwise transmitted by you. Furthermore, you undertake to regularly check your information (under "My Account" "Change personal data" or "Change billing address") or inform us in writing (katalin@learndoggroomingonline.com) about the change to guarantee the accuracy of your information. You alone are responsible for the complete and correct entry of data into the Happy Dog Groomers e-Academy input form.
8.3. You are obliged to keep your access data and password secret and to prevent the unauthorized use of the services by third parties.
8.4. You are responsible for any unwilling activities with your access information.
8.5. You agree to comply with applicable laws and regulations when using the HDG Learning Platform. In particular, you may not post content and make it accessible via the HDG learning platform that violates legal provisions and / or these terms and conditions. In particular, the duplication, publication and distribution of HDG content (videos, downloads, other content provided), in whatever form is prohibited, you won`t be transferred any copyright in any form.
8.6. You are liable for any misuse you cause directly or indirectly.
Misuse is especially in the following cases:
8.6.1. Any commercial use of the services offered by HDG without HDGs previous consent (eg. hyperlinks to paid services, selling, renting, leasing or lending of courses or LIWs, documents, both in printed and file form, etc.);
8.6.2. Use beyond personal contractual purposes, in particular use that would require the granting, transfer or exercise of rights under copyright law;
8.6.3. Any form of advertising of products or services, including the use of data for the dissemination of advertising, unless HDG has explicitly agreed to this in writing;
8.6.4. You may not use any devices, programs, or other means designed to circumvent or overcome the technical measures of the HDG.
8.7. You are liable for your content. In any case, content is inadmissible, when
8.7.1. It represents an advertisement or spam,
8.7.2. It includes or links to racist or otherwise discriminatory or anti-constitutional statements or symbols,
8.7.3. It encourages or endorses violence or other criminal acts,
8.7.4. It contains false, harassing, offensive or unauthorized personal information about third parties,
8.7.5. It is likely to give a false impression of parties,
8.7.6. It contains or links to malware or spyware,
8.7.7. It violates the rights of third parties such as patents, trademarks, copyrights, trade secrets or other property rights, without you having the right to its publication,
8.7.8. Or it otherwise violates applicable law,
8.7.9. It links to content that falls under the above categories.
8.8. In case of infringement of license, competition, image, copyright or other rights of third parties in your content, you release us from all claims that assert against us and you undertake to fully support us in the defense of these claims, in particular by providing information and evidence on sources and rights.
8.9. In the event of abuse or failure to comply with your obligations, HDG is entitled to immediately block your access to courses or LIWs and terminate the contract with extraordinary notice. Further rights and claims of HDG, in particular claims for damages, remain unaffected.
8.10. If you witness a violation of these terms and conditions by other users, you are obliged to inform HDG by e-mail to Katalin@learndoggroomingonline.com or via the contact form.
8.11. You have to report any defects, disruptions or damage to HDG immediately in writing (via the contact form or by e-mail to: Katalin@learndoggroomingonline.co
9. Prices
9.1. The remuneration to be paid by you for participation in a course or "LIW" is clearly stated in the course offer in the manner prescribed by law.
9.2. The prices quoted on the learning platform are gross prices. They include all price components and payment transaction costs, including any applicable statutory sales tax of your country.
9.3. HDG is entitled to change prices at any time. A price change has no effect on a current (ongoing) price contract period.
10. Payment and activation
10.1. The fee for participation in a course or "LIW" must be paid in advance.
10.2. Payments are made exclusively in euros.
10.3. If you are a legal entity or an entrepreneur from another EU country, it is possible to create the invoice without the statutory Austrian VAT and pay only the net amount. In this case, entrepreneurs from other EU countries must enter their VAT registration number and only the payment method "prepayment" will be accepted.
10.4. It is not possible to refund invoiced VAT retrospectively.
10.5. HDG offers the payment methods credit card, PayPal and prepayment for payments on the HDG platform.
10.6. When paying by credit card and PayPal, the debiting of your bank account takes place upon completion of the order. The billing is done within 7 working days after your order. The activation of the course with the sending of the access data takes place immediately after the order.
10.7. If you pay by "prepayment" the invoicing takes place within 5 working days. The activation of the course with the sending of the access data takes place within 2 working days after the receipt of payment.
10.8. If you want to pay by "prepayment", it is your responsibility to transfer the correct amount in Euro. In the event of incomplete or overpayment, you will be required to pay for any additional costs and fees incurred in connection with incomplete or overpayment (such as bank transfer costs, recall fees, reminders, etc.).
11. Termination of contract / termination
11.1. The agreed course has price has a fixed access time according to Section 6.1 of these GTC.
11.2. A premature ordinary termination is not possible. Staying away from lessons is never a termination.
11.3. The right of each party to extraordinary termination for cause remains unaffected. Any extraordinary dismissal for good cause must be made in writing, stating the reason for the termination.
11.4. You have the right to extraordinary termination only if the deficiency of HDG cannot be remedied within a reasonable period in individual cases. Otherwise, the statutory provisions apply.
11.5. In case of extraordinary termination by HDG no payments will be refunded.
11.6. Upon termination of the contract HDG is entitled to immediately block your access to the respective course or LIWs.
11.7. Cancellations are only possible for "LIW" events with a booking deadline. Cancellations for such services must be received at least 48 hours prior to their commencement. In case of no-show the full cost will be charged. A cancellation is only possible in writing.
11.8. HDG reserves the right to cancel an advertised LIW by written explanation due to a lack of participants or the illness of the teaching staff as well as other disruptions in the business, which are not his responsibility. In case of cancellation of an event due to short-term illness of the event manager, failure to reach the minimum number of participants or force majeure, there is no entitlement to the performance of the event on this date. A replacement date will be announced at short notice or any amounts already paid will be refunded. Further claims remain excluded.
11.9. There is no right to participate in LIWs announced with a limited number of participants.
11.10. If HDG becomes aware that you are intentionally or negligently breaching your obligations under these Terms and Conditions, then HDG may immediately, temporarily or permanently block your access without providing any reason, block or delete your content and / or the use of services and features.
11.10.1. HDG is free from its obligations, in case:
11.1 you have an outstanding payment from an existing, previous or other contractual relationship with us.
11.2 of misuse or failure to comply with your obligations under Section 8 of these Terms and Conditions
11.3 of disregard of copyright
11.10.2. If HDG has blocked your member account, you can only get access to the offered services after prior written consent by HDG. HDG will decide on your re-admission at its own discretion.
12. Technical requirements
12.1. The HDG services are only available online. You cannot download our courses as a whole, or use them offline.
12.2. In order to use the services offered by HDG, you must meet certain technical requirements which are not the subject of HDG's services:
12.2.1. In particular, you must have Internet access (recommended bandwidth at least 2000 DSL line),
12.2.2. an Internet-capable computer (PCs / Macs, etc.) with the software required for its use (eg the latest versions of the most important Internet browsers, including: Internet Explorer, Firefox, Safari and Chrome, etc. the latest version of the Flash plug-in). Ins and Adobe Readers, etc.).
12.2.3. 2.4 HDG is also geared to use via mobile devices (smartphone, tablet, etc.) that have a working SIM card and Internet access.
13. Availability of services
13.1. The services are always available 24 hours a day, seven days a week. However, due to maintenance required by the system, availability may be disrupted. Interruptions in availability may occur, inter alia, due to force majeure or other causes for which HDG is not responsible, such as intent or gross negligence.
13.2. HDG points out:
13.2.1. that it is technically impossible to provide the learning platform free from errors of any kind and that HDG therefore does not take any responsibility for it.
13.2.2. that errors can lead to the temporary shutdown of the learning platform.
13.2.3. that the availability of this learning platform is dependent on outside of the influence of HDG conditions and performance, such as e.g. the transmission capacities and telephone connections between the individual participants.
13.2.4. Accordingly, HDG cannot be held liable for any damage resulting from temporary unavailability or limited availability.
13.2.5. If HDG is unable to process or temporarily fulfill your order, it may reject it without further liability. If this occurs, HDG will notify you and refund all payments already made for the service.
13.2.6. HDG is entitled to take technical measures that prevent the use beyond the contractually permissible extent, in particular to install appropriate access barriers.
13.2.7. There is no claim to the permanent availability of courses or LIWs discontinued by HDG at any given time.
14. Liability / Warranty
14.1. The contents of the HDG services were created with great care. However, HDG cannot guarantee the accuracy, completeness, reliability and timeliness of the service content. Insofar as HDG relies on the delivery of texts, images or videos (content or contents) of third parties, HDG assumes no liability for the correctness, timeliness and completeness of the content provided and its selection as well as compilations.
14.2. The use of the services is at your own responsibility. The advice and information provided is not a guarantee of successful implementation.
14.3. In the case of intent and gross negligence, including its legal representatives and vicarious agents, HDG is liable in accordance with the statutory provisions. The same applies to culpably caused damage from injury to life, limb or health, damage caused by the lack of a guaranteed condition, as well as in case of malice.
14.4. In the event of material or financial damage caused by slight negligence, HDG shall only be liable in the event of a breach of a major contractual obligation. In this case the liability of the amount is limited to the damage foreseeable at the time of the conclusion of the contract and typical for the contract. Incidentally, liability is excluded to the extent permitted by law.
14.5. A material defect exists, if the HDG service does not have the agreed condition and the contractual use is consequently not or only partially possible. The agreed condition of the online service results exclusively from the license agreement, the description on the platform, from advertising materials or help texts. Indications and testimonials about the online services are not intended as a guarantee or guarantee of a specific characteristic feature.
14.6. According to the duty of care, HDG is responsible for the conscientious preparation, the careful selection and monitoring of the course parameters, the correctness of the course description and the proper provision of the agreed service.
14.7. Liability under the Product Liability Act remains unaffected.
14.8. In particular, HDG assumes no liability for any damage to health caused by improper execution of the exercises and / or due to recognized / unrecognized pre-existing conditions. Similarly, HDG is not liable for damages that you cause yourself or third parties.
14.9. Since HDG has no influence on the transport of data over the Internet, it can accept no liability for errors in the field of data transmission.
14.10. HDG assumes no liability for damages caused by the use of HDG services and which are not caused by intent or gross negligence on the part of HDG. This includes, among other things, and for example, damage from viruses, Trojans, dialers, computer crashes and the like.
14.11. HDG cannot guarantee that your use of the Services will meet your expectations.
14.12. HDG is not liable for the accuracy, quality, completeness, reliability, nature and quality of the information and content provided on the entire learning platform or the third party websites linked or referenced on the Learning Platform, subject to the foregoing provisions. Content that is not specifically labeled as content provided by HDG itself comes from e-authors, content providers or other users. They are not opinions of HDG, and HDG does not endorse these contents. Liability claims against HDG for material or immaterial nature, which were caused by the use or disuse of the information provided or by the use of incorrect and incomplete information, exist solely in the context of the above provisions.
15. Content
15.1. HDG is entitled to remove, modify, restrict or exchange the contents of the courses, as well as to modify chapters appropriately with regard to their contents, in particular to reduce or extend them appropriately. If such a change leads to a significant restriction of a course available to you in accordance with the license agreement, you are entitled to terminate the contract without notice.
15.2. Statements and explanations of the courses in promotional materials and promo videos as well as on the website of the HDG and in the documentation are only to describe the characteristic and not as a guarantee or assurance of the characteristic.
16. Copyright
16.1. All content contained on HDG's educational platform or provided by HDG, such as videos, text, graphics, photos, logos, button icons, images, audio clips, digital downloads, and data collections, is owned by HDG or third parties which deliver content or provide content on the platform, is protected by Austrian copyright and database laws.
16.2. When you purchase digital content, HDG does not provide/give you any property/ownership. Rather, by providing digital content, HDG grants you a simple, non-transferable and non-sublicensable right to use the digital content for personal use. Any commercial use, in particular the sale, rental, leasing or lending of courses or LIWs, documents, both in printed form and in file form, is inadmissible. The permanent storage of substantial amounts of data for the production of own systematic collections is inadmissible.
16.3. You agree to recognize and comply with the copyright. You do not receive any ownership or exploitation rights to the content provided.
16.4. You may not systematically extract and / or reuse parts of a service or content from HDG or any third party without our express written consent. In particular, you may not use data mining, robots, or similar data collection and extraction programs to extract any material portion of a service from HDG for re-use (whether one or more times) without the express written consent of HDG. Furthermore, you may not create and / or publish your own database containing material parts of any service or content of HDG without the express written consent of HDG.
16.5. If content is offered for download, downloading it is only permitted in accordance with the respective terms of use communicated with it and these may not be copied, used further or passed on to third parties. The right to download does not imply any transfer or further grant of copyrights; HDG reserves all rights not expressly granted to you. Contents intended for download are always marked as such.
16.6. Trademarks, company logos, other trademarks, or protection notices, copyright notices, as well as other identification of the HDG or the user of the rights of use or of individual elements thereof may not be removed or changed.
16.7. In the event of abuse, HDG is entitled to immediately block your access to courses and terminate the contract with extraordinary notice. Further rights and claims of the HDG, in particular claims for damages, remain unaffected.
17. Rights to your content
17.1. If you set comments, feedbacks, ratings, learning notes, keywords, pictures and the like ("user content") on the learning platform, any existing rights will remain with you as far as possible. You only grant HDG rights in this respect insofar as HDG need to be able to display, translate and make publicly available these user content on the entire learning platform as intended.
17.2. A fee for the publication of your contributions does not exist, as far as it was not previously agreed with us in writing.
17.3. You can have your HDG content removed from the HDG platform. You can send HDG an email to mailto: Katalin@learndoggroomingonline.com or via the contact form with the request to remove your user content. HDG will do this within 14 days if possible. With the removal, all granted rights of use to the respective content
for HDG gem. above 17. 1. lapse.
17.4. HDG has the right at any time to block or delete all published "user content" in whole or in part.
18. Cancellation policy (only for consumers possible!)
Consumers are entitled to a right of withdrawal according to the following conditions, whereby the consumer is any natural person who concludes a legal transaction for purposes which are predominantly neither commercial nor self-employed.
If you are an entrepreneur, you have no right of withdrawal.
18.1. Right of withdrawal (right of revocation):
You have the right to withdraw from this contract within fourteen days without giving any reason.
The cancellation period is fourteen days from the date of the conclusion of the contract (§2.3 of the Terms of Use). The day of the contract conclusion itself is not counted.

To exercise your right of withdrawal, you have to inform:

Katalin Erdmann
Happy Dog Groomers e-Academy
Reisnerstraße 38/7
1030 Vienna - Austria,
Email: Katalin@learndoggroomingonline.com
Tel: +43 699 8120 4734

by means of a clear statement (such as a letter sent by post or e-mail) of your decision to withdraw from this contract. You can use the WITHDRAWAL FORM, but it is not mandatory.
18.2 Consequences of the cancellation
If you withdraw from this contract, we shall reimburse you for any payments we have received from you without delay and at the latest within fourteen days from the date on which the notice of cancellation of this contract has been received. For this repayment we use the same means of payment that you used in the original transaction, unless otherwise agreed with you; In no case will you be charged for this repayment fees.
18.3 Exemption from the right of withdrawal (right of withdrawal) - based on § 18 para. 1 no. 11 FAGG
You have no right of withdrawal (right of revocation/cancellation) for the delivery of digital content not stored on a physical medium, if HDG begins with the execution of services (with your explicit consent, associated with your notice of the loss of the right of withdrawal) before the expiry of the otherwise existing withdrawal period.
According to § 7 Abs 3 FAGG you will receive a confirmation of the contract conclusion on a durable medium (eg e-mail) connected to the information referred to in § 4 para 1 FAGG within a reasonable period after, but at the latest before the start of service, provided that this information has not been previously provided on a durable medium. In any case, the confirmation of the contract (confirmation of order) contains a confirmation of the consent about the immediate provision of the service and about your acknowledgment of the lapse of the right of withdrawal (right of revocation/cancellation).
Cancellation/Withdrawal/Revocation Form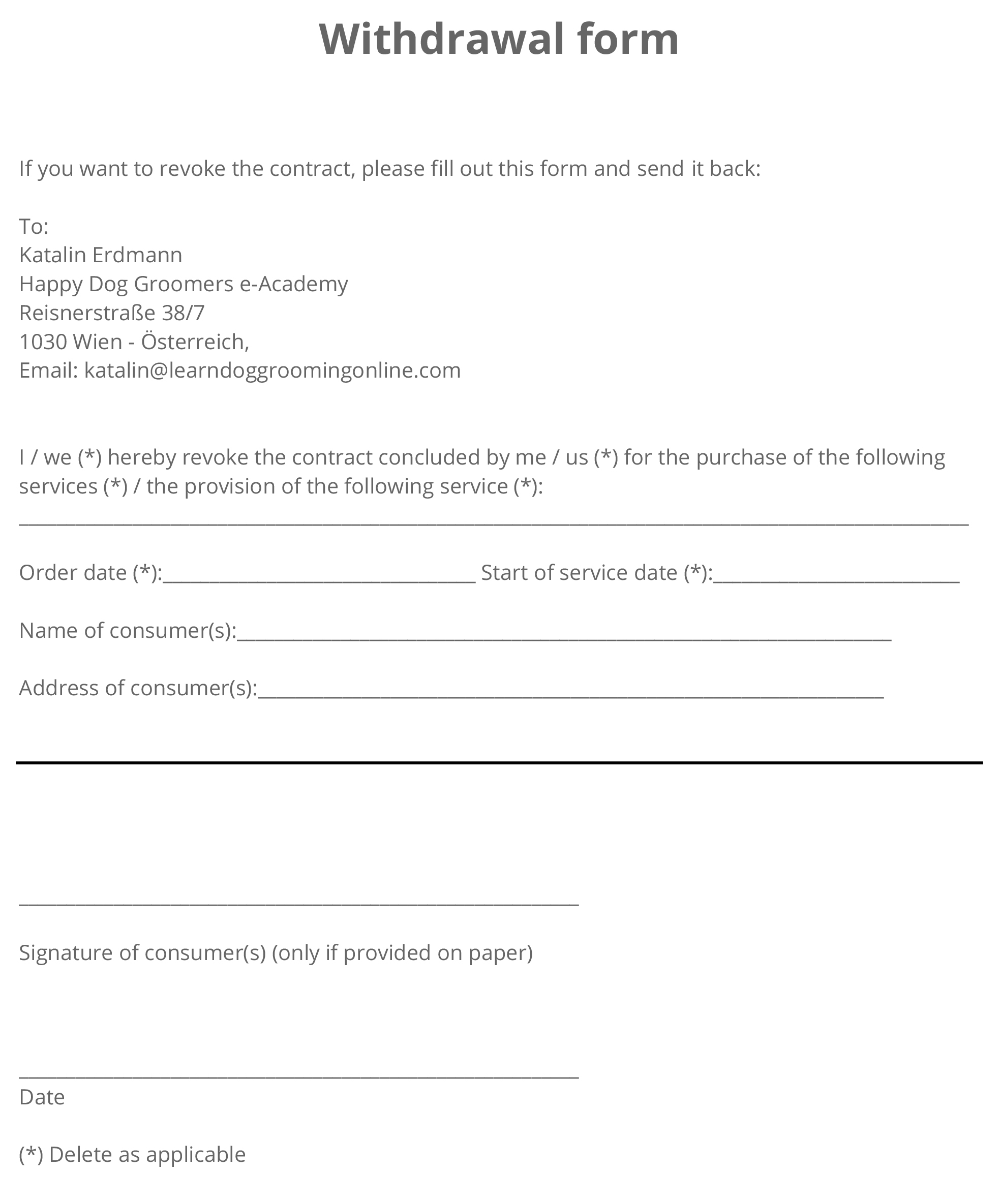 19 Privacy
19.1 All personal information provided in connection with your use of the Learning Platform is subject to our Privacy Policy, which is hereby incorporated by reference into these Terms. By using the services or software, you agree to the privacy policy.
19.2 Dealing with your data is always earmarked and in accordance with the statutory provisions.
20 Electronic communication
20.1 If you use a service from HDG or send e-mails, text messages or other communications from your computer or mobile device to us, you are communicating with HDG electronically. HDG will electronically communicate with you in a variety of ways, e.g. via e-mail, text messages or by publishing electronic messages or other communication on the learning platform or in the context of other services of HDG. For contractual purposes, you agree to receive electronic communications from HDG and you agree that all consents, notices, publications and other communications will be sent to you electronically in writing by HDG, unless otherwise required by law
20.2 You agree to receive invoices electronically.
21 Final provisions
21.1 Change of Terms and Conditions
21.1.1 HDG reserves the right to change these terms and conditions at any time without giving reasons.
21.1.2 1.2. Changes to the terms and conditions will be published on the learning platform.
21.2 No waiver
21.2.1 If you violate these terms and conditions and HDG does nothing, HDG is still entitled to use its rights on any other occasion in which you violate these terms and conditions.
21.3 Severability clause
21.3.1 Should any provision of these Terms be invalid or unenforceable, it shall be replaced by the valid or enforceable provision that comes closest to the legal intent of the invalid or unenforceable provision.
21.3.2 Otherwise, the statutory provisions apply.
21.4 Contract language
The contract language is German. With regard to the interpretation and interpretation of these terms and conditions, only the German version is authoritative. Translations into English are available for ease of understanding. In case of differences to the German text, only the German text is binding.
21.5 Jurisdiction
21.5.1 Austrian law applies with the exception of its reference standards and the UN Sales Convention.
21.5.2 If you do not conclude the contract as a consumer, then the exclusive jurisdiction of the court responsible for commercial matters in Vienna shall be deemed agreed for all disputes between us under this contract.
21.5.3 In the case of consumers, the law is applicable at the place of residence of the consumer, provided that it is an advantageous mandatory consumer law for the consumer.
21.6 Note according to consumer dispute resolution law
21.6.1 From 15 February 2016, the EU Commission will provide a platform for out-of-court settlement. This gives consumers the opportunity to settle disputes in connection with their online order without the intervention of a court. The Dispute Settlement Platform can be reached at the external link http://ec.europa.eu/consumers/odr/. In this context, we are legally obliged to point you to our e-mail address. This is: mailto: Katalin@learndoggroomingonline.com
21.6.2 We endeavor to settle any disputes arising from our contract by mutual agreement. In addition, we are not obliged to participate in a conciliation procedure. Please contact us directly with questions and problems.
21.7 Contact details for complaints:
Contact us via the feedback form or by e-mail: mailto: Katalin@learndoggroomingonline.com.
21.8 No group suits
You can settle disputes with us only individually and are not entitled to bring in a complaint as a plaintiff or class action plaintiff in the context of a collective or representative action.
21.9 Sale to consumers
For sale to consumers within the meaning of the Consumer Protection Act, the above provisions only apply to the extent that the Consumer Protection Act does not mandate other provisions.
21.10 Customer service
For more information about our service and features, or if you need assistance with your account, please visit the Happy Dog Groomers e-Academy Help Center on our website: https://learndoggroomingonline.com/support/